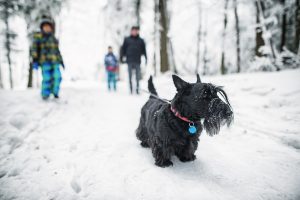 Snow is pretty to look at, but isn't always very fun for your pet. Animals can struggle in winter to stay warm, healthy, and protected from the harsh winter elements. It's important for all pet owners to keep certain precautions in mind to keep their pet safe from any accidents or illnesses.
These six essential winter pet safety tips will ensure your pet stays happy and healthy all throughout the chilly months. Implementing these tips will also give you peace of mind as you'll know that your pet is protected, even in the heaviest of winter storms.
Protect Your Pets From the Elements
Your pet's cold tolerance will vary based on its coat as well as other factors such as overall health and activity level and body fat stores. Unless your dog's breed thrives in the cold, it is best to limit the length of walks in winter. Sweaters or booties can also help your dog on walks if they are especially susceptible to cold weather.
If your cat is an outdoor-only cat, give them an area that is protected from the cold to return to when they need. If you can bring them inside until the weather warms up, do so.
Illness as well as very young or old age can stop your pet from being able to regulate their body temperature. Monitor their health closely, keep them in a temperature-regulated environment, and do not leave them outdoors for any extended period of time. 
Keep Pets Away from Chemicals
Chemicals such as deicers and antifreeze can be a common hazard for your pet in winter. These and other chemicals are found often on the ground in the cold months, which means your pet has easy access to consume them either during or after a walk. Chemicals such as these can be fatal to pets. 
To protect them, watch them closely when they are outside to ensure that they don't consume anything they shouldn't. It is also imperative to wash your pet's feet and belly when they come in to get rid of any toxic substances that they may have picked up while outdoors. Otherwise, they may accidentally poison themselves by licking  the contaminated ice and water off of themselves. 
Rubbing petroleum jelly on their belly and feet before a walk can stop these chemicals from accumulating. Booties are a great solution here, as you can simply remove them once the walk is over, leaving your pet with clean, dry paws.
Use a Collar and Chip
Snow and ice hide scents that help pets find their way back home. This leads to many pets becoming lost in the winter months. To protect your pet if they do get lost, ensure that they are chipped and collared. 
A microchip can be scanned by a veterinarian to help locate the pet's owners, but it only works if the registration is up to date. Much the same, a collar is a great identifier, but make sure you get your pet a new one if the current address or phone number doesn't match your place of residence.
Give Your Pet the Best Haircut
Wintertime is not the season to shave your dog. Let your pet have a longer coat in the cold months and wait till the weather warms up for a haircut. That being said, ice balls can be a factor for long-haired dogs and outdoor cats, so do trim your pet's coat and snip away any knots or ice balls that have gathered. 
An often overlooked place to maintain is the space between your pet's toes. The hair there can become easily knotted and full of salt or chemicals from walks. Trim the hair there regularly.
Have the Right Systems in Place
A well-protected house for you and your pet in winter and all year long includes a home security system, a home fire alarm system, and a carbon monoxide monitoring system. These systems will help to keep you and your pet safe whether you are at home or away. 
Many security systems do not account for the presence of pets, leading to many false alarms due to pet movement. The right system for a pet owner will allow for the natural movement of these animals. They will also let you peek in on your pet to make sure all is well while you are away.
NEXT STEPS:
Contact us today to learn more about winter pet safety.
Stay up to date on security topics such as home alarm systems, business security systems, video surveillance systems, IP video networks, remote video monitoring, fire alarm systems, and fire alarm inspections.
https://www.americanalarm.com/wp-content/uploads/2021/02/iStock-893522152-scaled.jpg
1708
2560
zac
https://www.americanalarm.com/wp-content/uploads/2022/12/American-Alarm_logo_1Xr.png
zac
2021-03-04 12:23:12
2021-04-02 12:41:32
6 Winter Pet Safety Tips