5 Security Tips for the Holidays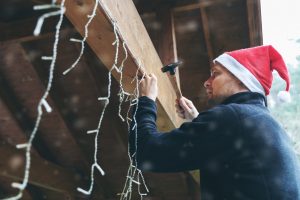 There are thousands of fires during the holiday season each year. These accidents are primarily caused by trees, candles, outdoor lights, and cooking. Yet, fires aren't the only security risk during the holidays. Burglaries, package theft, and more happen at increased rates during this time of year. 
New England residents are less likely on average to be victimized by crime than the rest of the country. However, the rates are still high enough to warrant extra caution, especially during the holidays. Keep these five security tips in mind this year to enjoy a safe and happy holiday.
Avoid Christmas Tree Fires
A dry Christmas tree is far more likely to go up in flames in comparison to a well watered, fresh tree. When shopping for a tree, look for one with bright green needles that are hard to pluck. That will tell you the tree is still very healthy. When it is time to set up your tree, keep it away from heat and electrical sources and make sure its basin is always full of clean water. 
One in three tree fires starts as an electrical fire. All Christmas tree lights should be checked before use. If you have any damaged lights, throw them out. Turn off your tree lights before you head to bed and do not keep lit candles near your tree. Ensure that your fire alarm system is working properly, just in case a fire does break out.
Use Caution with Outdoor Lights
Do not use indoor-only lights on the exterior of your home, as they are likely to spark a fire with increased moisture. Inspect your strands before you hang them to ensure they are undamaged. Throw away the strands that are frayed or have broken lights. Always turn off exterior lights before bed, and when leaving the house for extended periods.
Watch Your Packages
One in four Americans will be the victim of package theft at least once, and the likelihood of that theft goes way up during the holidays. The occurrence of this type of theft is bound to be higher this year in comparison to previous years, thanks to an increase in online ordering due to COVID. If you will receive packages at home this year, set up your deliveries to require a signature, or use a lock box by your front door for safekeeping. Installing a video surveillance system is also likely to deter porch pirates from theft.
Keep Your Home Secure While Travelling
Remember to check all your doors and windows before you leave the house. If you have a video surveillance system, ensure that it is unobstructed by any leaves, limbs, or other objects. You should also check your home burglar alarm system to make sure that it is working properly, as it will be your greatest line of defense against an intruder while you are away.
Decorate Safely
The holidays come with beautiful foliage. Unfortunately, most of it is poisonous. Keep mistletoe, poinsettias, amaryllis, Jerusalem cherry, and holly away from children and pets. Do not interweave flammable materials in with string lights on your mantle, down your bannister, or in any other part of your home, as this could cause a potentially fatal fire.
Also, be mindful that your decorations are placed at safe heights that won't be toppled over accidentally, especially when lit candles are involved. These careful decorating practices will go a long way in keeping your home safe and secure throughout the holiday season. 
NEXT STEPS:
Contact us today to learn more about holiday security.
Stay up to date on security topics such as home alarm systems, business security systems, video surveillance systems, IP video networks, remote video monitoring, fire alarm systems, and fire alarm inspections.
https://www.americanalarm.com/wp-content/uploads/2020/12/iStock-1190829187.jpg
836
1254
zac
https://www.americanalarm.com/wp-content/uploads/2022/12/American-Alarm_logo_1Xr.png
zac
2020-12-10 14:56:07
2020-12-10 14:56:07
5 Security Tips for the Holidays